Age Space's Annabel James selects the pick of the latest news:
It's Christmas: Have fun!
Baroness Sally Greengross is calling for older people to be given more opportunities to play and have fun. She says we need to combat the assumption that play ends with adulthood.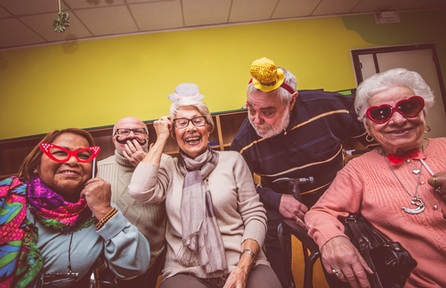 Play has an essential role in boosting physical and mental health, yet ageism means "play is reserved for the youngest of society", according to the chief executive of the International Longevity Centre (ILC-UK).
She was speaking at the ILC Future of Ageing conference where campaigners and experts on longevity, discussed the importance of play throughout life.
Manufacturers are wising up to the growing adult market wanting to distract themselves from the stresses of life by buying toys. Colouring books for adults have become a big hit and Lego has even formed a brand called Lego Forma dedicated to making toys for grown ups.
Read more here
It's reality, Jim, but not as we know it
Scientists have found an unexpected use for virtual reality headsets: to help pinpoint people who may later develop Alzheimer's Disease.
The devices, widely used by computer gamers, display images that can be used to test the navigational skills of people thought to be at risk of dementia. Those who do worse in the tests will be the ones most likely to succumb to Alzheimer's later in life, scientists believe. Read The Guardian's report.
Health and Care – what matters most?
The Healthwatch annual report looks back at what 406,567 people said about their experiences of health and social care. Watch the video to see what difference your views have made to services now and in the future.
Care at Christmas
From beetroot soup to sprouts, care worker Aniela and the woman she supports have taught each other about festive traditions. A lovely Guardian article  about the people who spend their Christmas looking after others.
If you are a carer for a family member and sometimes feel it's all a bit much, take a look at the latest news in our Age Space Sussex Taking Care of Care campaign.
The doctor is in – more often!
It's been in the news this week that you should now be able to see a GP at your local surgery on weekday evenings and at weekends.
There's more info on that and on contacting a doctor out-of-hours on the NHS website.
And finally…
We didn't see this coming! Just the thing for when we're teetering car to bar in our heels: ankle scarves.
The ideal pressie for the girl who has almost everything, this must-have trend was first reported in the Milan-based publication Lercio. Happy Christmas!